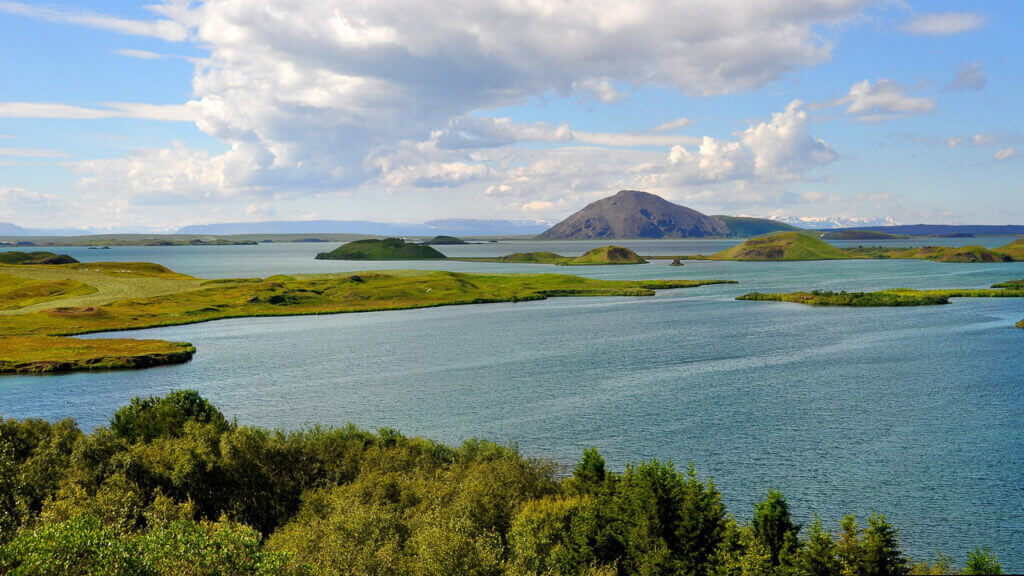 • Godafoss, the picture-perfect waterfall of the gods
• The bubbling geothermal landscape at Hverir
• Fascinating lava rock formations at Dimmuborgir
• The extraordinary Skutustadagigar pseudo craters
• Optional: Myvatn Nature Baths
• Optional: The Grjotagja lava cave and spring, also featured in the Game of Thrones series
We start the tour by driving over the Vikurskard mountain pass to the Godafoss waterfall. Nicknamed "Beauty" (with Dettifoss being the "Beast"), Godafoss is indeed one of the prettiest waterfalls in Iceland. Its name means "waterfall of the gods" as it is believed that idols of the old pagan Gods were thrown into it when Iceland embraced Christianity in 1000 A.D.
Continuing east to Lake Myvatn, we start with the southern shore of the lake.
Myvatn is Iceland's fourth largest lake and is surrounded by diverse natural wonders.
Our first stop here is the pseudocraters at Skutustadagigar. Formed 2300 years ago, these unusual geological creations are the result of bubbling lava flowing over mushy wetlands.
Next, we head to Dimmuborgir (or Dark Cities), where you can walk amidst some of the most fascinating rock formations in Iceland. The place is believed to be the place where the 13 Icelandic Yule Lads (Santa Clauses) live.
To get to the colourful geothermal areas of Hverir, we will cross the mountain pass. Here you can experience the force of nature amidst sulphurous fissures in the cracked earth, steaming fumaroles and bubbling mud pools.
Our last stop is the area of the Nature Baths where you have the option to spend an hour in the milky blue geothermal waters.
Those who are not interested in the baths can instead join the guide to visit the Grjotagja lava cave, followed by some free time to take a walk in the unique landscape of the Nature Baths area or to get something to eat at the Kaffi Kvika.
Believed to be the home of an outlaw in the 18th century, Grjotagja was used as a local hot spring until the 1970s. Despite being too warm to bathe in after the Krafla eruptions, its deep blue colour and concealed setting makes it very popular, more so after being featured in the Game of Thrones series.
Loading your cart… Your cart is empty Items in your cart 1

• Pickup and dropoff from the port
• 100% refund if your ship does not dock
• Small group tour with a local guide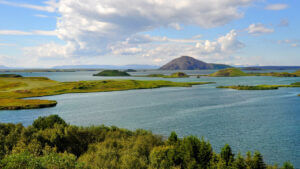 Eine kleine Gruppenreise zum faszinierenden Vulkansee Myvatn und zum atemberaubenden Godafoss-Wasserfall mit der Möglichkeit, in den geothermischen Naturbädern zu entspannen.
Do you have a question or want something customised?

Send us an email and we will get back to you as soon as possible.