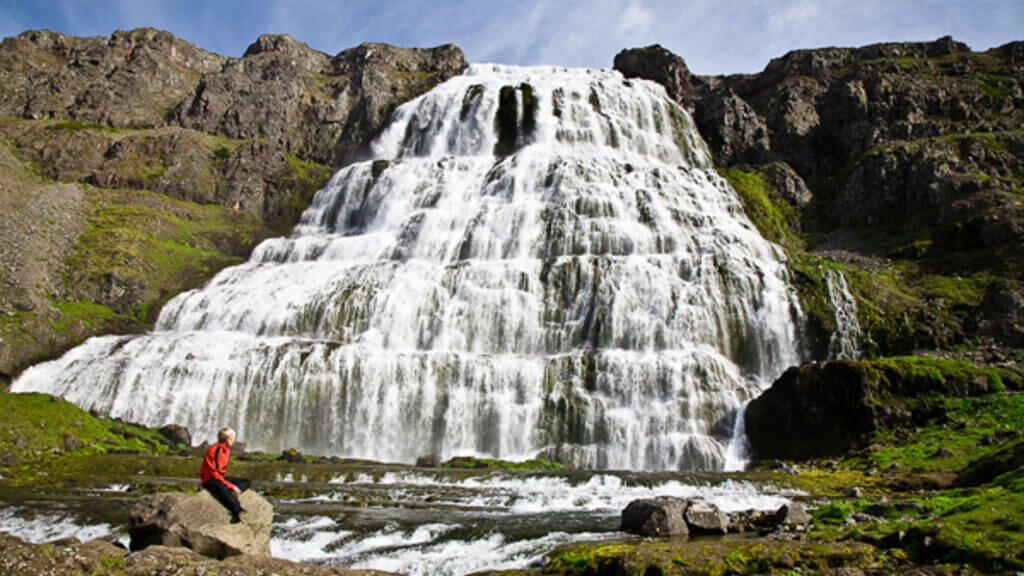 • Dynjandi waterfall: a true icon of the Westfjords region
• Charming Hrafnseyri farm, the birthplace of "President" Jon Sigurdsson
• A mountain pass and four different fjords
• Wildlife guaranteed, sometimes including whales and seals, if lucky
• Optional traditional Icelandic refreshments
We start the tour by driving straight to Dynjandi, through some spectacular scenery and two very different (and surprisingly interesting) tunnels, re-emerging on the shore of the Dynjandisvogur creek of Arnarfjordur, after which the waterfall is named.
Actually a series of seven waterfalls, falling like a bridal veil from the edge of a cliff, Dynjandi is breathtaking. The river originates from Nedri Eyjavatn Lake, one of many on the Glama moors, which were actually considered to be a glacier until the end of the 19th century.
We stop at Dynjandi for an hour so you have time to absorb the waterfall and landscape with all your senses. Whether you choose to view from sea level, or to hike the rocky trail to the top, spectacular views of the fjord and surrounding mountains await you – regardless of age or physical ability.
From here, we continue to Hrafnseyri, named after Hrafn Sveinbjarnarson, a legendary chieftain spoken of in the Sagas of the Icelanders, but better known as the birthplace of Jon Sigurdsson. Jon was the most notorious leader of the Icelandic independence movement and is today considered a founding father of the country. His birthday is celebrated as the National Day.
You can walk around the restored turf house, visit the free exhibition, and take a look at the church. We recommend the homemade cakes at the café, which can be pre-booked with us during checkout.
At 30km long, Arnarfjordur is one of the longest fjords in Iceland and is famed in folklore for being home to sea monsters.
Dyrafjordur is rich in flora, fauna, history and geological marvels, and home to the town of Thingeyri, one of the oldest settlements in the Westfjords. It is here where the regional Viking assembly (or "thing") was held and the first trading post of the Westfjords was established.
Geologically considered to be the oldest part of Iceland, Onundarfjordur has a unique golden beach and dune system that are a protected eider duck nesting site.
Isafjordur town is in the smallest fjord, called Skutulsfjordur, which lacks nothing in the way of scenery, despite its compact size.
Loading your cart… Your cart is empty Items in your cart 1

• Pickup and dropoff from the port
• 100% refund if your ship does not dock
• Small group tour with a local guide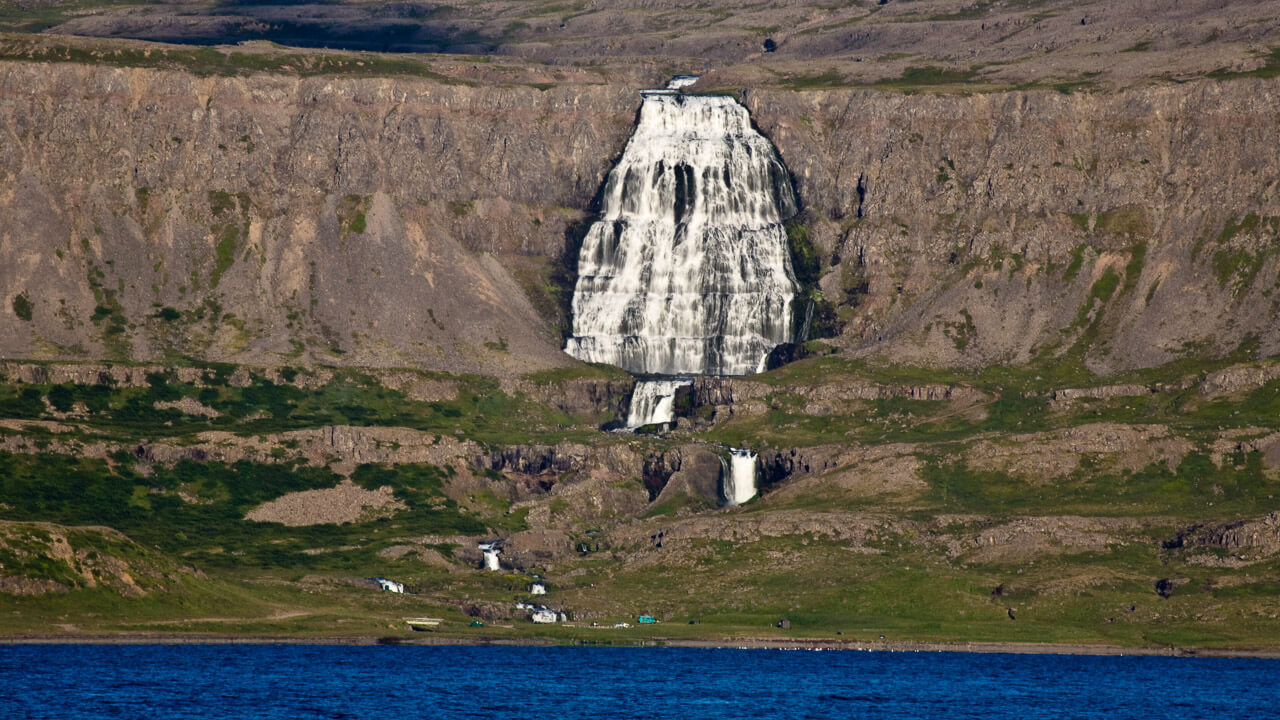 An express tour to Dynjandi, one of Iceland's most spectacular waterfalls, whilst driving through the stunning Westfjords landscape.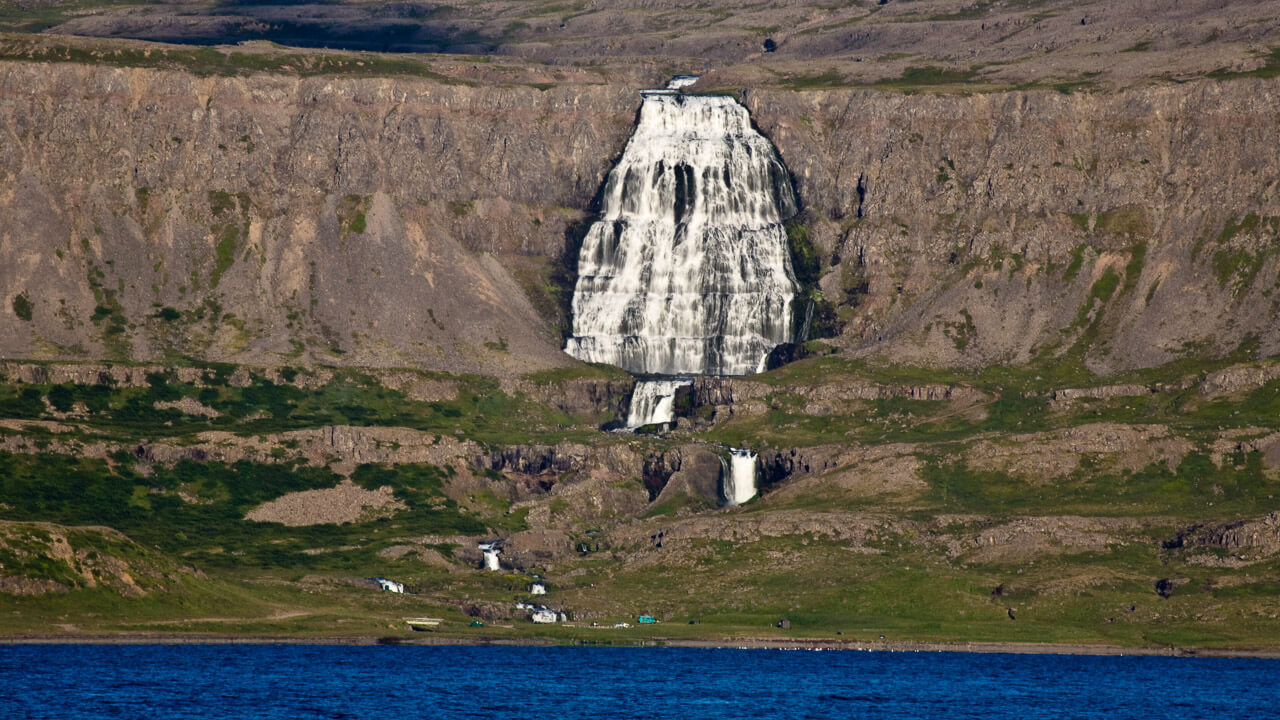 Eine Tour nach Dynjandi, einem der spektakulärsten Wasserfälle Islands, über die malerischen Berge und die nördlichen Westfjorde mit einem Stopp im Hrafnseyri-Museum
Do you have a question or want something customised?

Send us an email and we will get back to you as soon as possible.