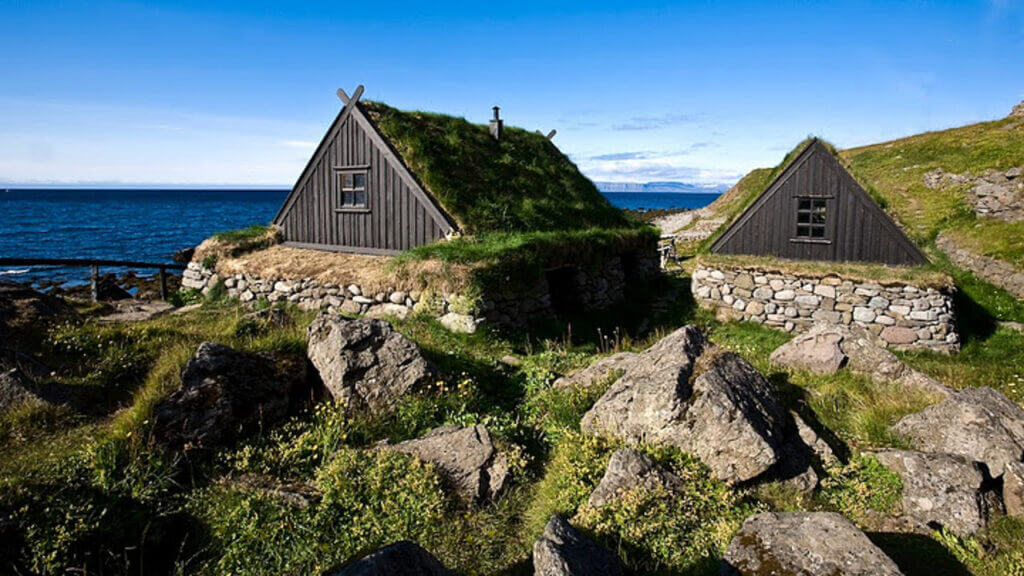 • The important landmarks of Isafjordur
• Beautiful Onundarfjordur and the town of Flateyri
• The fishing village of Bolungarvik, the busiest fishing port in the Westfjords
• Optional: Kaffi Sol farm for local specialities and to learn about the production of "harðfiskur"
• Optional: Osvor Maritime Museum
• Optional: Sudureyri village and the Seafood Trail
Deutsch
,
English
,
Español
,
Français
,
Italiano
We start with a short drive around the town of Isafjordur to visit the town's most important landmarks including the beautiful library building, the heritage area of Nedstikaupstadur with the oldest timber buildings in Iceland and Jonsgardur garden's whalebone arch.
We then drive through a tunnel to the fishing village of Flateyri in the beautiful Onundarfjordur fjord. Geologically this is considered to be the oldest part of Iceland.
We stop at an old whaling station and fishing sheds to learn about the long and colourful history of the village, which was established as a trading port in 1792. Across the fjord, we will enjoy views onto a unique golden beach and dune system that are a protected eider duck nesting site.
We continue into the town to visit the barrier built to protect the village after the tragic avalanches in 1995. The wall offers a great view over the village.
If you are interested, it is possible to stop at the Kaffi Sol farm. They have a delightful cafe where you can taste local specialties and learn about the "harðfiskur" (dried fish) produced there.
We drive back to Isafjordur and take a short tunnel to visit Bolungarvik, the second largest town in the Westfjords and the northernmost.
The busiest fishing port in the Westfjords, the charming harbour area is filled with boats and usually bustling with activity.
The pretty church perched atop a hill has a unique stone wall and offers lovely views of the town.
It is possible to visit the Osvor Maritime Museum just outside of the town. Designed to be a replica of an Icelandic fishing station from the 19th century; fishing huts, a boat, tools and equipment have been painstakingly preserved to provide visitors with a glimpse into the hardship of times past. Views of the Arctic Ocean and sounds of the crashing waves add to the experience.
It is also possible to include a visit to the Sudureyri fishing village in the narrow and deep Sugandafjordur fjord. Before the tunnel was made in 1996, the treacherous road over the mountain was only open in the summer making it one of the most isolated places in the country.
The Seafood Trail tour is a delightful tour with an insight into life in this charming village, the Westfjords fishing heritage and a tasting of local seafood specialities.
• Pickup and dropoff from the port
• 100% refund if your ship does not dock
• Customisable tour with a local guide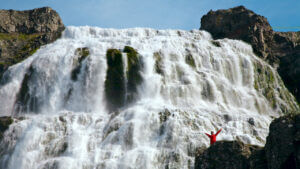 An express tour to Dynjandi, one of Iceland's most spectacular waterfalls, whilst driving through the stunning Westfjords landscape.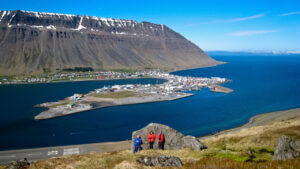 Take an exhilarating hike to experience the untouched wilderness in the mountains surrounding Isafjordur.
Explore the charming streets of Isafjordur to get acquainted with the unique culture of the Westfjords and Iceland.
Do you have a question or want something customised?

Send us an email and we will get back to you as soon as possible.