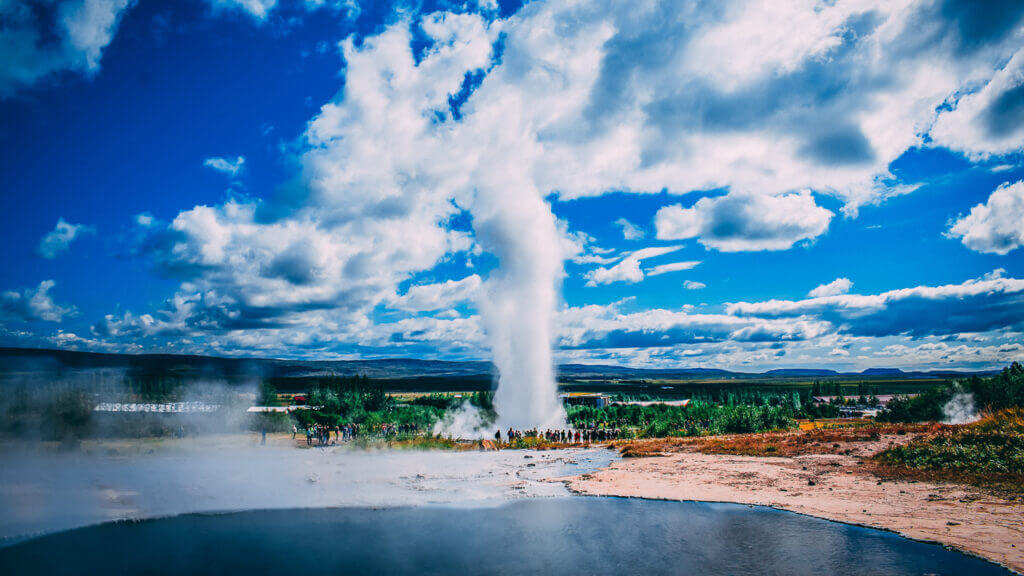 • The majestic Gullfoss waterfall
• The erupting Strokkur geyser at the Geysir geothermal area
• The rift valley between the tectonic plates at the Thingvellir National Park
• The colourful Kerid crater lake
The "Golden Circle" is the most popular sightseeing region in Iceland and our best selling shore excursion from Reykjavik.
We start the tour by driving to the South Coast where we pass the geothermal town of Hveragerdi before arriving at Kerid, a stunning crater lake. The red hues of the volcanic rock are a striking contrast with the blue-green water.
Continuing north, we head to Gullfoss, one of Iceland's most beautiful waterfalls. Translated as "golden waterfall", its signature golden glow on sunny days is the reason behind the name of the Golden Circle area.
The river Hvita originates in the Langjokull glacier and plunges 32m into a narrow and deep canyon.
From Gullfoss, you also have a great view of the Langjokull glacier, Iceland's second largest.
Next, we visit Geysir, one of the world's greatest geysers and the origin of the word geyser. Although the great geyser is not active, the smaller Strokkur erupts 30 meters up into the air, every 7-8 minutes, much to the delight of the crowds. Strokkur is the clear favourite sight here but the surrounding area makes for a nice walk with a variety of bubbling hot springs, steaming vents and colourful fissures.
Our last stop on this route is the Thingvellir National Park, the only UNESCO World Heritage Site on the Icelandic mainland and historically significant for being the first meeting place of the Icelandic parliament in 930.
Thingvellir is located in the rift valley between the Eurasian and North American tectonic plates, and Iceland is the only place where this rift is above sea level. We can walk alongside the plates and through the Almannagja gorge to the beautiful Oxararfoss waterfall.
The Park was also a filming location for the Game of Thrones series.
This is a small group tour. We also offer a private Golden Circle tour which is great for groups or those looking to customise the itinerary or add an activity.
Loading your cart… Your cart is empty Items in your cart 1

• Pickup and dropoff from the port
• 100% refund if your ship does not dock
• Small group tour with a local guide
Do you have a question or want something customised?

Send us an email and we will get back to you as soon as possible.