Welcome to Grundarfjordur
Grundarfjordur is the gateway to Snaefellsnes, a 90 km long peninsula in West Iceland known for its diverse natural sights, rich history and charming fishing towns.
The route to the port takes you through the scenic Breidafjordur Bay dotted with uncountable islands and an important habitat for many species of birds, including the white-tailed eagle, and marine life.
As you sail closer, you can enjoy a sea view of one of Iceland's most photographed mountains, Kirkjufell.
The town was settled by French traders around 1800 and grew with the fishing industry. Today it is home to approximately 1000 people.
The Snaefellsnes peninsula is often referred to as "Iceland in miniature" because of the incredible variety of sights offered by this small region. The majestic Snaefellsjokull glacier, desolate lava fields and fascinating rock formations, inspiring coastal views, orca whales and bird colonies – there is something magical about Snaefellsnes.
Snaefellsjokull dominates the western tip of the peninsula and was also featured in Jules Verne's famous The Journey to the Center of the Earth.
The most popular shore excursion is a sightseeing circle tour with options for a lava cave tour and hiking.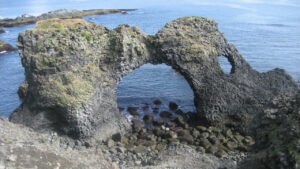 Group Tour
A small group tour of the many wonders of West Iceland's stunning Snæfellsnes Peninsula and national park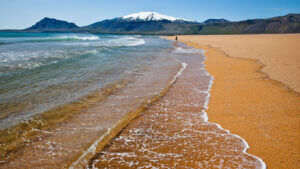 Private Tour
Truly Iceland in miniature with the majestic Snaefellsjokull glacier volcano, Kirkjufell mountain and waterfall, black sand beaches, lava fields, craters and more.