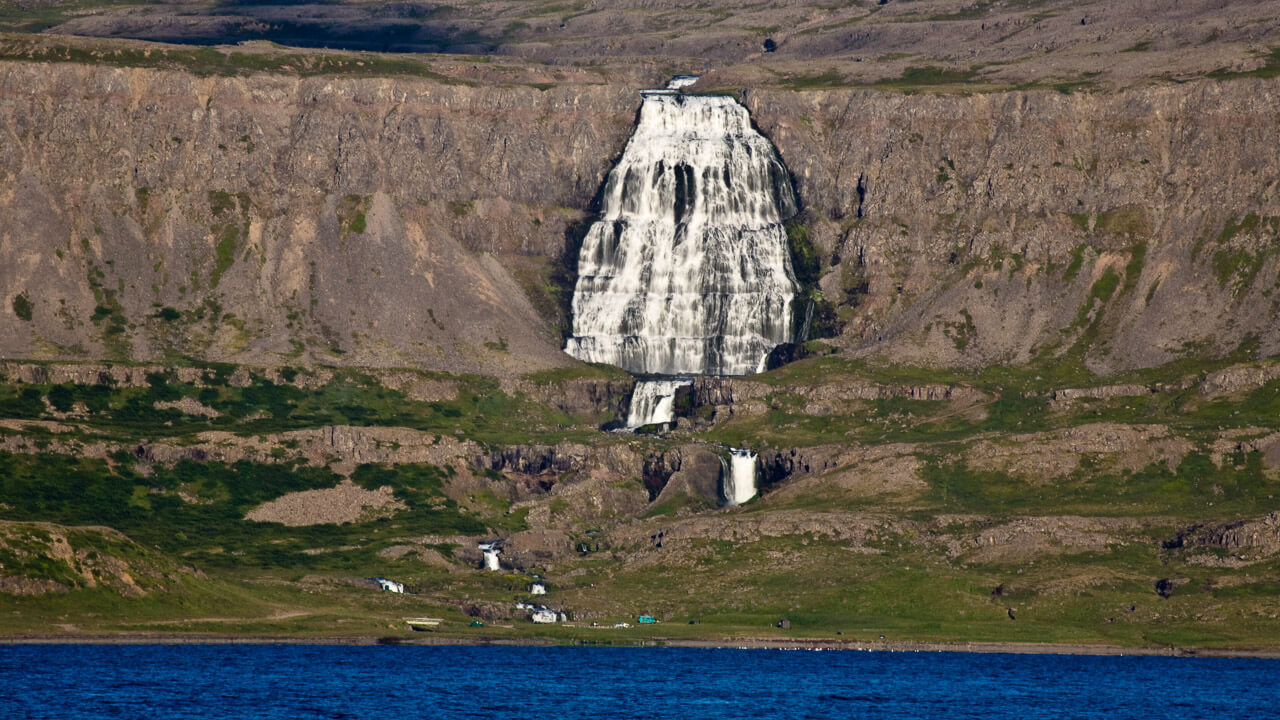 • Der Dynjandi-Wasserfall, eine majestätische Ikone der Westfjorde
• Die charmante Hrafnseyri-Farm, der Geburtsort von Jon Sigurdsson
• Fjordlandschaft von Onundarfjordur und Arnarfjordur
• Szenischer Dyrafjordur und die Stadt Thingeyri
• Der Hrafnseyrarheidi-Pass mit spektakulärer Aussicht
Wir beginnen die Tour, indem wir über den neuen Tunnel am Fuße des Dyrafjordur direkt nach Dynjandi fahren. Der Tunnel mündet in den Dynjandisvogur-Bach von Arnarfjordur, nach dem der Wasserfall benannt ist.
Dynjandi ist eine Reihe von 7 Wasserfällen, die wie ein Brautschleier vom Rand einer Klippe fallen. Der Fluss entspringt dem Eyjavatn-See in den Glama-Mooren, in denen sich der heute erloschene Glamajokull-Gletscher befand.
Wir halten für eine Stunde an, damit Sie den Wasserfall und die malerische Landschaft genießen können. Es ist möglich, die kurze Wanderung zu unternehmen, um die oberste Ebene und die spektakulären Ausblicke auf den Fjord und die umliegenden Berge näher zu betrachten.
Wir fahren weiter zur Hrafnseyri-Farm, der Heimat von Hrafn Sveinbjarnason, einem legendären Häuptling, von dem in den isländischen Sagen gesprochen wird, der jedoch besser als Geburtsort von Jon Sigurdsson bekannt ist. Jon war der Führer der isländischen Unabhängigkeitsbewegung und Gründungsvater des Landes, und sein Geburtstag wird als Nationalfeiertag gefeiert.
Sie können durch die restaurierten Rasenhäuser spazieren, die kostenlose Ausstellung besuchen und einen Blick auf die Kirche werfen. Wir empfehlen die hausgemachten Kuchen im Café, die während des Bestellvorgangs im Voraus gebucht werden können.
Die Bergkette zwischen Dyrafjordur und Arnarfjordur wird als Westfjordalpen bezeichnet. Wir werden kurz anhalten, um die beeindruckende Aussicht auf die Berge und den Fjord zu genießen.
Dyrafjordur ist reich an Flora, Fauna, Geschichte und geologischen Wundern und beherbergt die Stadt Thingeyri, eine der ältesten Siedlungen in den Westfjorden. Hier fand die regionale Wikingerversammlung (oder "Ding") statt und der erste Handelsposten der Westfjorde wurde eingerichtet.
Onundarfjordur gilt geologisch als der älteste Teil Islands und verfügt über ein einzigartiges goldenes Strand- und Dünensystem, das ein geschützter Nistenten-Nistplatz ist.
Loading your cart… Your cart is empty Items in your cart 1

• Abholung und Rückgabe vom Hafen
• 100% Rückerstattung, wenn Ihr Schiff nicht anlegt
• Kleingruppentour mit einem lokalen Führer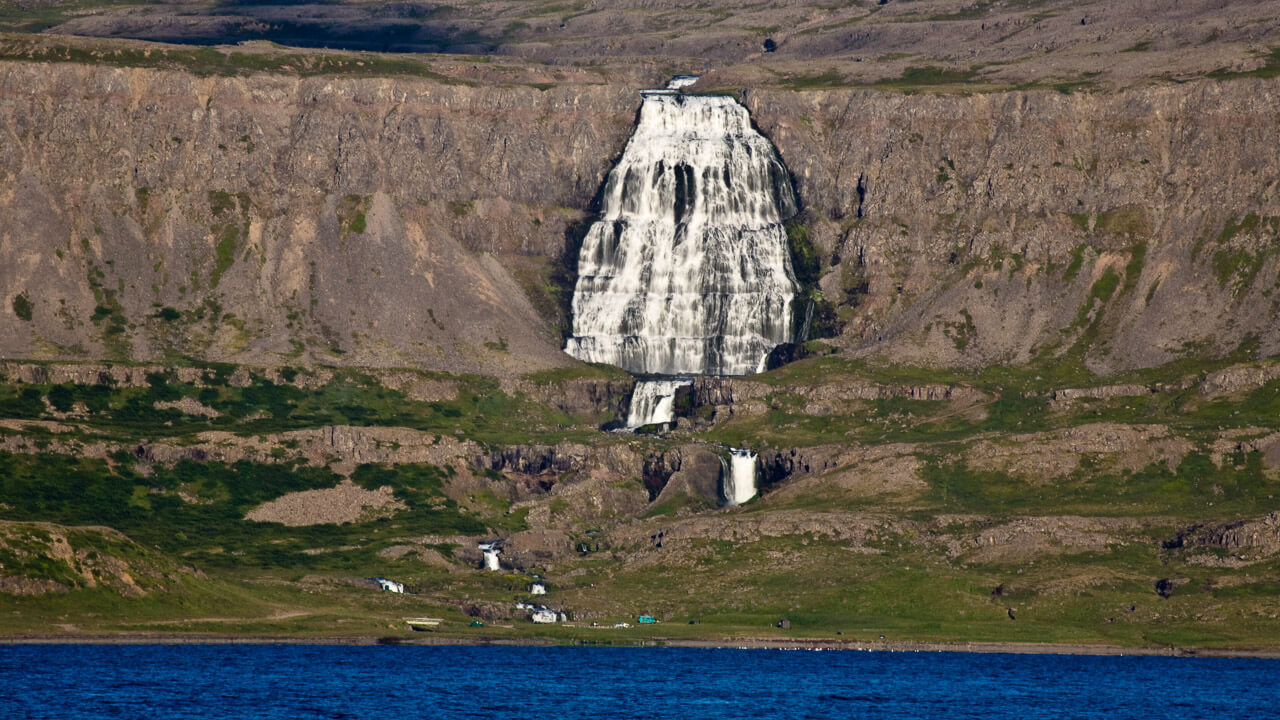 An express tour to Dynjandi, one of Iceland's most spectacular waterfalls, whilst driving through the stunning Westfjords landscape.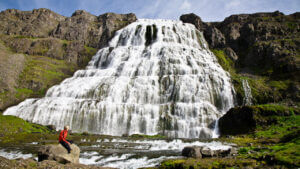 A tour to Dynjandi, one of Iceland's most spectacular waterfalls, via the scenic mountains of the northern Westfjords, with a stop at Hrafnseyri open-air museum
Do you have a question or want something customised?

Send us an email and we will get back to you as soon as possible.