Snaefellsnes National Park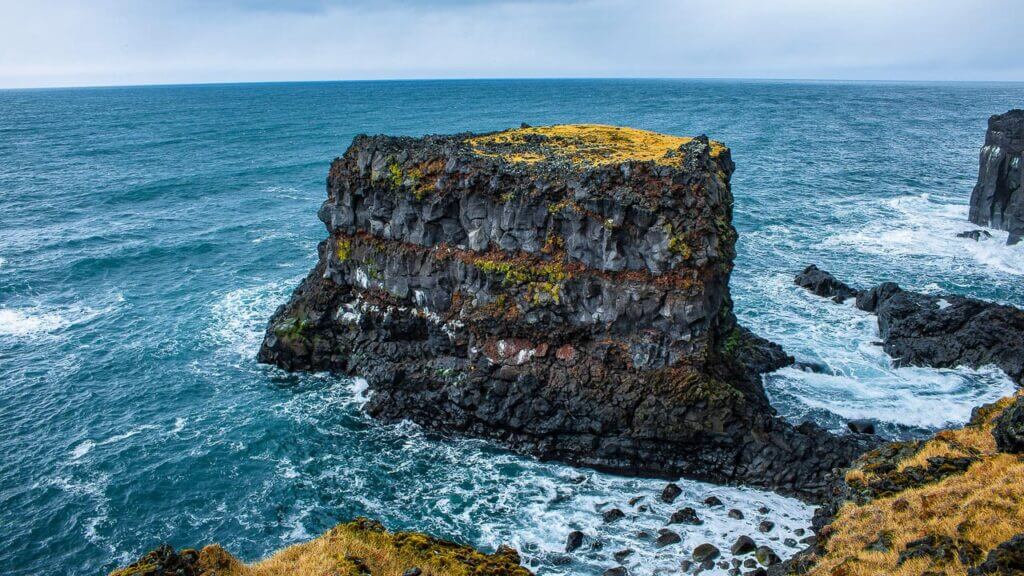 • The photogenic Kirkjufell mountain and waterfall, also featured in Game of Thrones
• Panoramic views from the Saxholl crater
• The Djupalonssandur black sand beach
• The lighthouse and Information Centre at Malarrif
• The basalt columns at Londrangar
• Arnarstapi fishing village and the Bardur sculpture
• Budir black church
• Panoramic views over the Berserkjahraun lava fields from the Selvallavatn Lake
The Snaefellsnes peninsula is often referred to as "Iceland in miniature" because of the incredible variety of sights offered by this small region.
The majestic Snaefellsjokull glacier volcano dominates the peninsula and was also featured in Jules Verne's famous The Journey to the Center of the Earth.
We start the tour with driving east to the very photogenic Kirkjufell Mountain and waterfall. Translated as "Church Mountain", it is a favourite with photographers and is also featured in the Game of Thrones series as the "Arrow Head Mountain".
Continuing along the coast, we stop at the Saxholl crater. The easy climb, thanks to the walking path, offers one of the best views of the peninsula, the ocean and the glacier volcano.
Further ahead is the wind swept Djupalonssandur black sand beach with peculiar rock formations.
Once crowded with fishing boats, the bay is now uninhabited but you can still check out the four lifting stones used by fishermen to test their strength.
We will stop at the Malarrif, the site of an old farm and lighthouse, which is now an Information Centre where you can learn more about the peninsula.
In the vicinity, the eroded remains of the Londrangar volcanic crater
rising from the ocean are an impressive sight. The basalt columns and surrounding cliffs are home to many species of birds including the puffin, fulmar and kittiwake.
Arnarstapi is a small fishing village steeped in history. At the beautiful beach, you will find the huge stone sculpture of the half-man half-troll Bardur, known to be the protector of Snaefellsnes.
We continue along the southern coast of the peninsula to the Budir black wooden church set at the edge of a lava field by the sea.
Our last stop is the Selvallavatn Lake where we have a panoramic view over Berserkjahraun, an ancient lava field. A setting for the 13th-century Eyrbyggja Saga, the landscape is colourful and dramatic with moss-covered lava, red crater hills and unusual rock formations.
If you're interested in more, it is possible to add an hour to the tour for one of the following detour options:
– A lava cave tour in Vatnshellir, an 8000-year-old lava tube.
– A coastal walk between the fishing villages of Arnarstapi and Hellnar. The breathtaking route is dotted with remarkable rock formations abound with seabirds, the most striking being the Gatklettur stone arch with a circular window.
– A walk through the colourful and dramatic landscape of the Berserkjahraun lava field.
• Pickup and dropoff from the port
• 100% refund if your ship does not dock
• Customisable tour with a local guide
Do you have a question or want something customised?

Send us an email and we will get back to you as soon as possible.