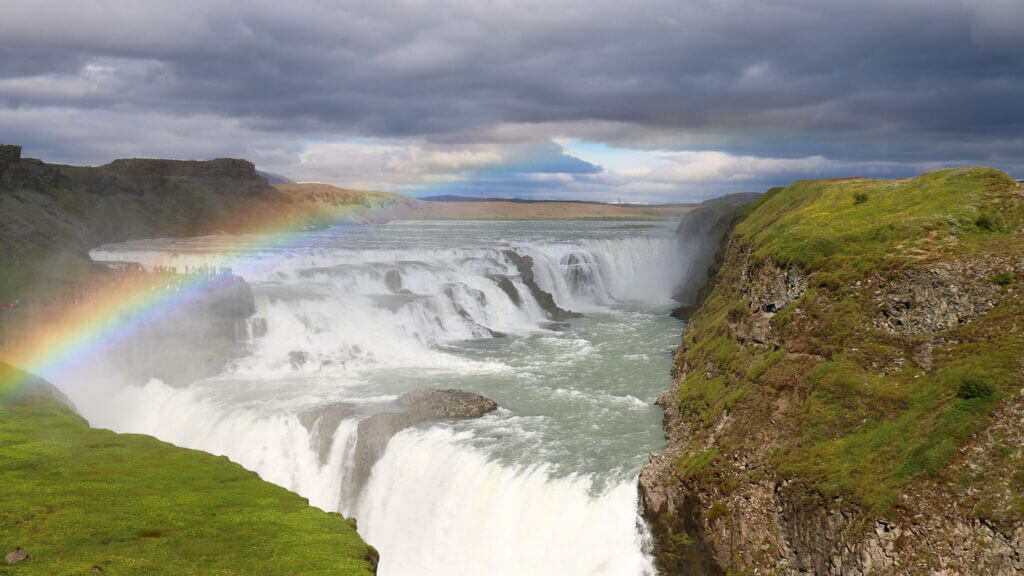 • La majestueuse cascade de Gullfoss
• L'éruption du geyser Strokkur dans la zone géothermique de Geysir
• La vallée entre les plaques tectoniques du parc national de Thingvellir
• Plusieurs options pour d'autres sites naturels, piscines géothermiques, culture, cuisine et activités
Allemand
,
Anglais
,
Espagnol
,
Français
,
Italien
Le Cercle d'Or est la route touristique la plus populaire en Islande avec les trois arrêts principaux : la cascade de Gllfoss, la zone géothermique de Geysir et le parc national de Thingvellir.
Translated as "golden waterfall", the name of Gullfoss relates either to its signature golden glint on sunny days, or to the legendary gold at the end of the rainbow, as Gullfoss often creates perfect rainbows in its mist. The river Hvita originates in the Langjokull glacier and plunges 32m into a narrow and deep canyon. From Gullfoss, you also have a great view of the Langjokull glacier, Iceland's second largest.
Geysir est l'un des plus grands geysers du monde et l'origine du mot geyser. Bien que le grand geyser ne soit pas actif, le plus petit Strokkur explose de 30 mètres dans les airs toutes les 7-8 minutes pour le plus grand plaisir de la foule. La région environnante accueille également une variété de sources chaudes bouillonnantes, des évents fumants et des fissures colorées.
Thingvellir National Park is a UNESCO World Heritage Site and historically significant for being the first meeting place of the Icelandic parliament in 930 AD. Iceland has the oldest surviving parliament in the world.
Thingvellir is located in the rift between the Eurasian and North American tectonic plates, and Iceland is the only place where this rift is above sea level and you walk alongside the plates. We will walk through the Almannagja gorge to the beautiful Oxararfoss waterfall. The Park was also a filming location for the Game of Thrones series.
Depending on your interests and how much time you have, there are several other sights and detour options along
this route. Here are some of them:
- Kerid, un lac de cratère volcanique bleu-vert
– Secret Lagoon geothermal bathing pool
- L'exposition géothermique à la centrale Hellisheidi
– Lunch at Fridheimar tomato farm and cafe
- Le spa de Laugarvatn et sa boulangerie
- Le musée Skalholt, le site du siège de l'évêque médiéval d'Islande
- Chute d'eau de Faxafoss
It is also possible to combine your tour with an activity such as snowmobiling, horse riding, snorkelling between the tectonic plates, hiking etc.
This is a private tour. We also offer a small group Golden Circle tour.
*Please note that private tour bookings are classed as requests until availability can be confirmed by our staff. Prices shown are flexible and you may be offered different prices, subject to availability.
Pourquoi réserver avec nous
• Nous venons vous chercher et vous ramenons au port
• 100% remboursé si votre bateau ne se rend pas au port
• Tour personnalisable avec un guide local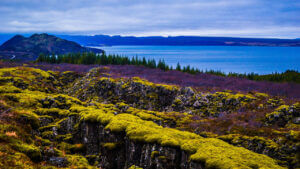 Islands berühmteste Tour überhaupt, einschließlich Gullfoss-Wasserfall, Geysir-Geothermalgebiet und Nationalpark Þingvellir.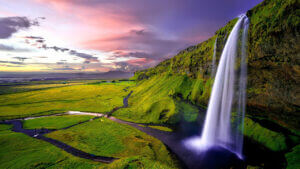 Visite des sites les plus célèbres de la côte sud - les célèbres chutes d'eau, glaciers, les falaises de Dyrholaey et la plage de Reynisfjara.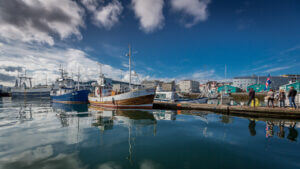 Visite des célèbres monuments de la capitale islandaise avec un aperçu de sa culture et de son histoire et des options pour visiter les musées remarquables.
Vous avez une question ? Vous souhaitez un tour sur mesure ?

Contactez-nous et nous reviendrons vers vous aussi vite que possible.