Iceland is a great place for observing animals and wildlife in their natural environment – the elusive arctic fox, curious seals, free roaming sheep, the sturdy Icelandic horse and an incredible variety of marine life and birds.

The arctic fox is Iceland's only native terrestrial animal. All other land mammals were brought by early settlers or imported, and some of those are now considered a unique breed thanks to centuries of isolation.
Arctic fox
Iceland's only native land mammal is a descendant of the last Ice Age. It is believed to have reached Iceland by walking over frozen sea bridges and then remained after the ice cap retracted north.

Away from the crowds of the Ring Road, the remote Westfjords is the best place in Iceland to see foxes, especially the uninhabited Hornstrandir Nature Reserve where they are protected and less afraid of humans.

The settlement of Hesteyri is home to a fox family which tends to take a liking to human visitors. All you need to do to reach Hesteyri is take the short boat trip there from the Isafjordur port.

You might also see these elusive creatures whilst mountain hiking in the wilderness of the Westfjords, even outside Hornstrandir. We offer guided hikes from the port of Isafjordur and Patreksfjordur.

Although there is nothing better than seeing them in the wild, the town of Sudavik has an Arctic Fox Centre dedicated to the preservation and protection of arctic foxes. Apart from the fascinating exhibition, it also houses two rescued pups, Ingi and Mori.
It is possible to stop there on our tour to the Isafjordur bay.
Sheep
Brought to Iceland by the first settlers, the Icelandic sheep was key to surviving the harsh conditions and is a national symbol of endurance.

Outnumbering the people by a ratio of 2:1, the sheep are farmed for their wool and meat. In the summer they are set free and roam the countryside, climb mountains and often cross highways bewildering travellers.

Their soft and uniquely water resistant wool is the essence of the Icelandic lopapeysa; and the tender meat, naturally flavoured with wild grass, herbs and berries, is traditional gourmet food.
Horses
Another millennium old pure breed, the Icelandic horse is sturdy, friendly and very unique. It is the only breed in the world with five gaits, has a variety of coat colours and even a naming commission to regulate their names!

In fact, this beautiful breed has become so popular that today there are more Icelandic horses out of the country than in it.

Would you like to meet these friendly creatures? Get in touch with us if you'd like to arrange a visit to a horse farm and / or a horse riding tour near any one of your ports.
Reindeer
Brought from Norway in the 18th century, reindeers survived only in East Iceland where they run wild in the countryside.

A sightseeing drive through the East would give you some chance of seeing them, we recommend the Eastfjords Highlights, which we offer from the ports of Seydisfjordur and Eskifjordur.

They are also hunted for meat in restricted numbers in case you fancy a reindeer burger or steak.
Seals
Seals have inhabited Iceland's shores long before people; and were extremely valuable to early settlers who made use of their meat, skin and oil.
The two species – harbour seal and grey seal – live year round in Iceland but are best spotted in the Westfjords, North West Iceland and the Jokulsarlon glacier lagoon.

Our tour to the Isafjardardjup bay stops at Hvitanes, a popular haul out site and great place to see them.

The stunning red sands of the Raudasandur beach are also home to a seal colony, which you often see lounging on the beach.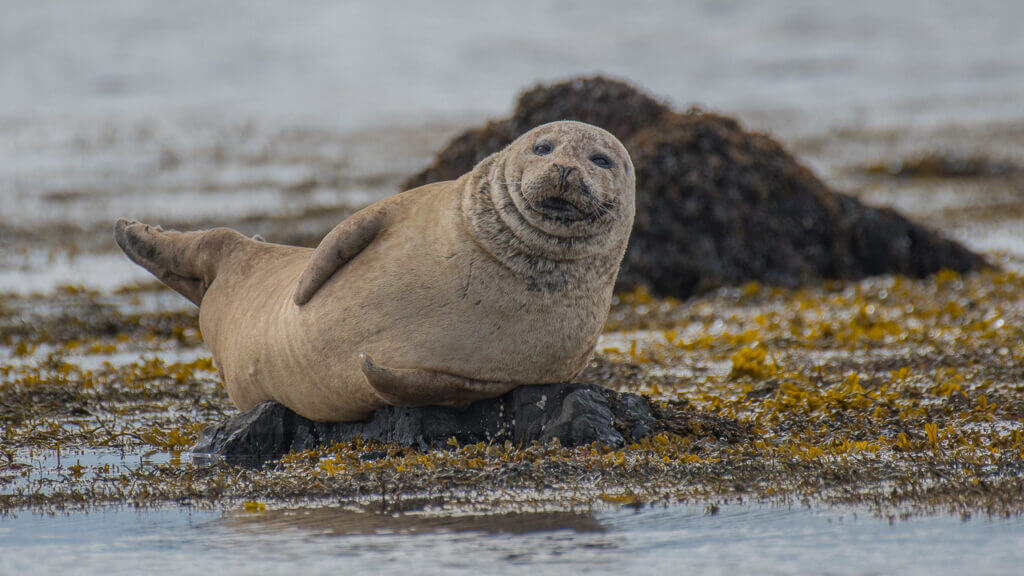 Rabbits and Minks
Apart from the fox, you might also catch sight of the mink or the rabbit whilst hiking off the beaten path.

Wild minks in Iceland are descendants of those imported for fur farming in the 1930s. The highly adaptable semiaquatic animal has rapidly spread all over Iceland and negatively impacted the ecosystem.

Rabbits are another invasive species, whose numbers have multiplied from abandoned pets.
Iceland also has a wide variety of birdlife and marine life. You can read more in our dedicated articles about Birdlife in Iceland and Whale watching in Iceland.