The most common dwelling until the late 19th century, Iceland turf houses are an important part of Iceland's history and an interesting stop for cruise tours. They tell stories of the country's past: stories of survival and ingenuity, of making the most of the few raw materials available, of progress and hope, and of the eternal human quest to make life a little more comfortable.

Turf houses are difficult to maintain and the landscape is quick to reabsorb them. Today, as a result, most remaining houses belong to the National Museum of Iceland. Here is a list of some of our favourite turf houses. You can visit them as part of your Iceland cruise.
Hrafnseyri
The birthplace of Jon Sigurdsson, the leader of the 19th century Icelandic independence movement, Hrafnseyri is now a museum – and no Iceland cruise turf houses tour would be complete without it.

Stunning fjord-side views, whale sightings, and great cakes served in this turf house make it a favourite stop on our Dynjandi waterfall tour from Isafjordur.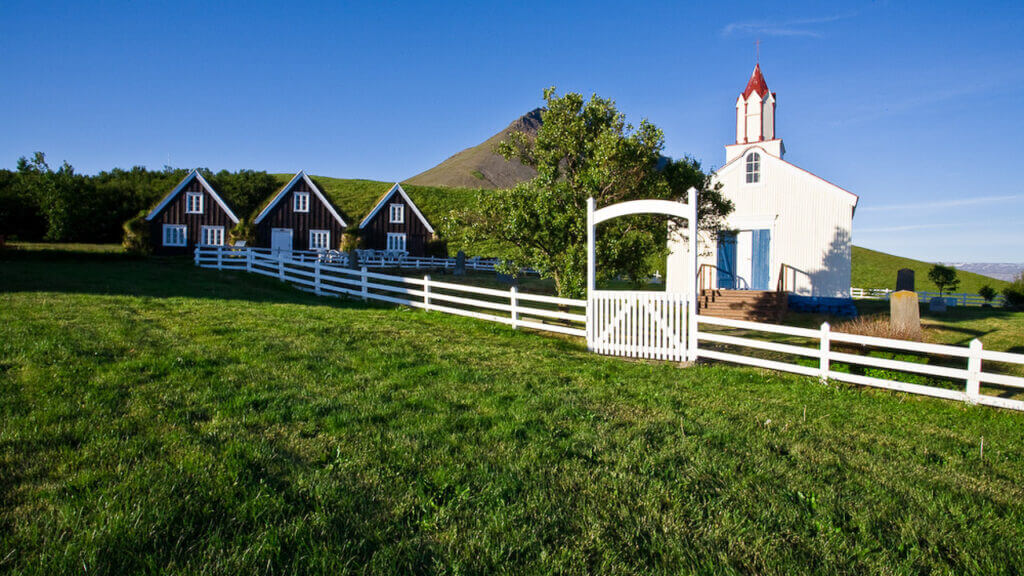 Osvor
At the end of the old coast road from Isafjordur, overlooking Bolungarvik beach, is Osvor. It is a replica of a traditional Icelandic fishing station from the 19th century; complete with a rowing boat, a hut with tools and equipment, a salt house and a drying shed.

The curator, dressed in a traditional fisherman's outfit, offers guests a glimpse of long-gone lives of fishermen in the era.

It is possible to visit Osvor on some our private tours from Isafjordur port. Depending on your interests, take your pick from a tour to Bolafjall mountain, Osvor and Bolungarvik or a tour of Westfjords Villages.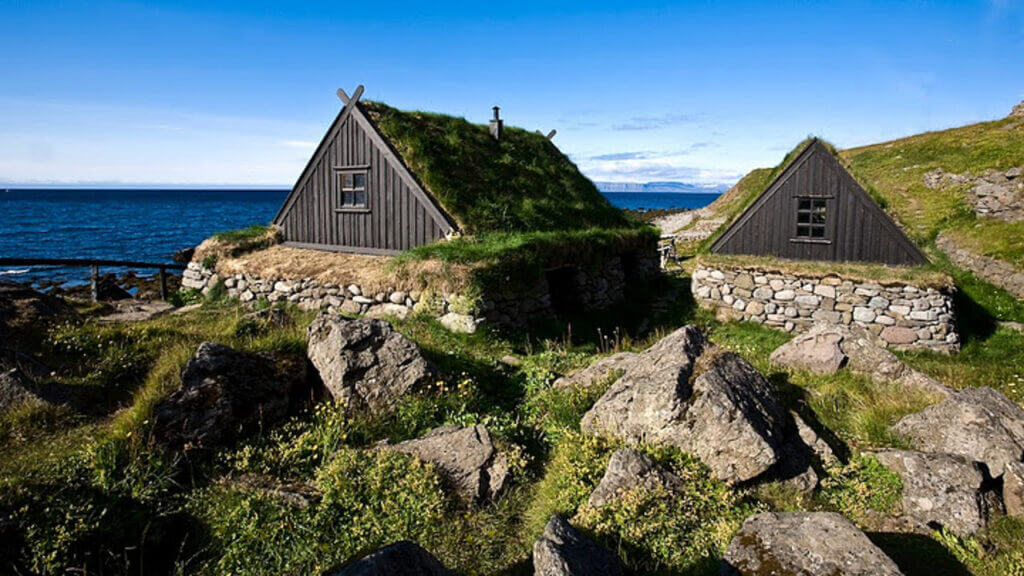 Litlibaer
The "Little Farm" was built in 1895. Two families lived in their own separate halves of this tiny house. Inhabited until 1969, the national museum now owns the farm, which features an exhibition about life in the area's past. Operated as a cafe (closed in winter), Litlibaer serves some of the best waffles in Iceland.

It is possible to stop there on our tour of Isafjordur Bay. This tour offers stunning fjord landscapes and opportunities to see seals.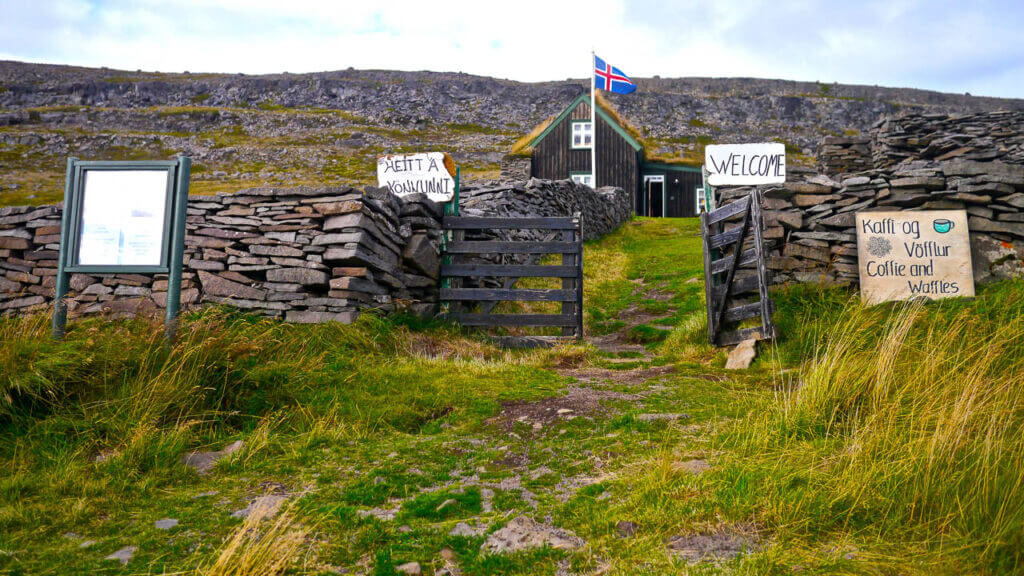 The Sorcerer's Cottage
The remote Strandir region has a long history of sorcery and witchcraft. The Sorcerer's Cottage consists of three connected turf houses and has an assortment of medieval items and tools, which help recreate the past.

The Sorcerer's Cottage is right on our path during our tour to Northern Strandir, so it is possible to spend some time there during your cruise tour of Iceland turf houses.
Laufas
Laufas was a wealthy farm, with five turf-roofed houses and a church dating back to the 9th century. Today, it is a museum.
It makes for a great add-on to our tour around Akureyri town.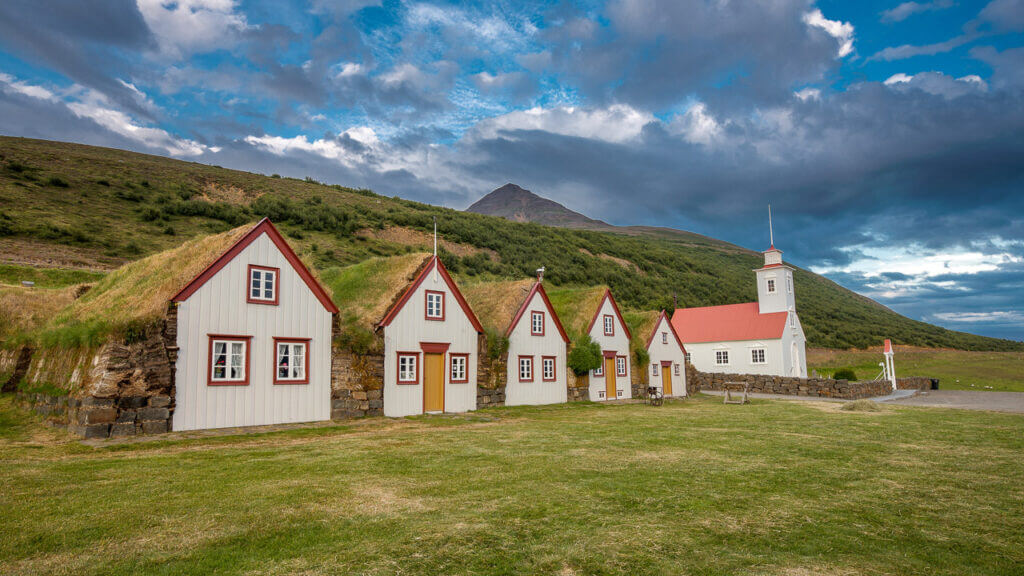 Manarbakki
A bit further along the coast from Husavik, following the tip of Tjornes peninsula, we find Manarbakki folk museum, housed in two turf houses. A personal collection of an assortment of interesting objects, and the spectacular views, make it worth the stop on our tours from Husavik port.
You can take your pick from our Diamond Circle tour to Dettifoss, Asbyrgi and Myvatn, or a coastline drive to Asbyrgi and the Arctic Henge in Raufarhofn.
Geirsstadakirkja
In the midst of the tranquil Icelandic countryside, Geirsstadakirkja has been reconstructed from the ruins of a settlement age turf church.

It is possible to visit on a short detour on two of our private tour options from Seydisfjordur port; either to Studlagil Canyon or the tour to Borgarfjordur Eystri, the town of puffins and elves. These tours are also available from Eskifjordur.
Lindarbakki
One of the few remaining inhabited turf houses, Lindarbakki is hard to miss.
The red-painted house is an important landmark of the village and a great stop on our tour to Borgarfjordur Eystri, offered from the ports of Seydisfjordur and Eskifjordur.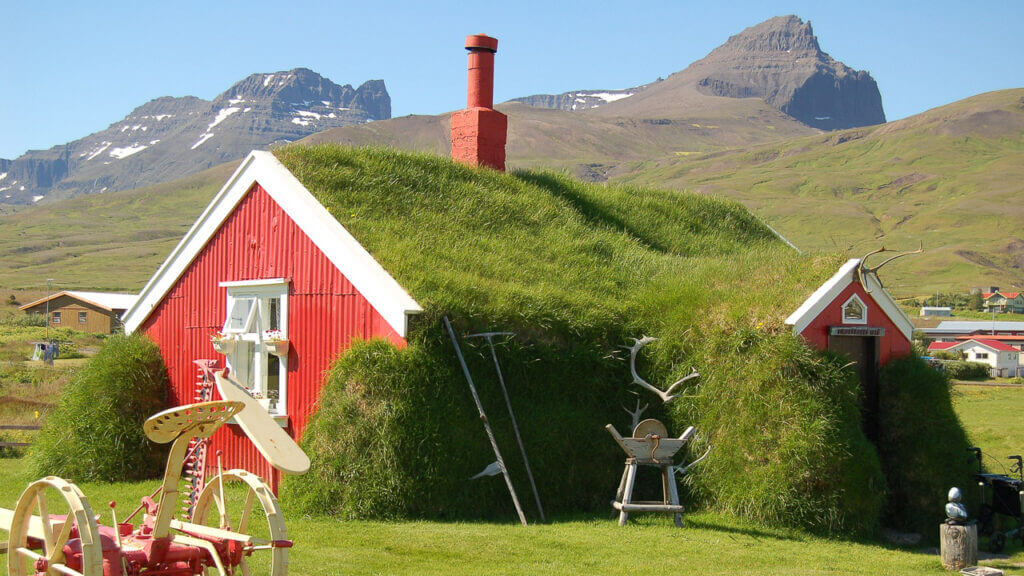 Turf houses in South West Iceland
Keldur: Believed to be the oldest turf house in Iceland, the pretty Keldur was home to Ingjaldur from the famous Njals Saga. The farm also has a turf mill by the creek.

Islenski baerinn: A privately owned museum consisting of a group of turf houses, a barn and stables.

Skogar: The Skogar folk museum is housed in reconstructed turf roofed houses and makes for a very interesting add-on to your stop at the Skogafoss waterfall.

Stong: The Thjorsardalur valley features a reconstructed farmhouse and church from the settlement age. The site was also used for filming a scene from the Game of Thrones show.

It is possible to stop at these sites on our private tours to the South Coast and Golden Circle.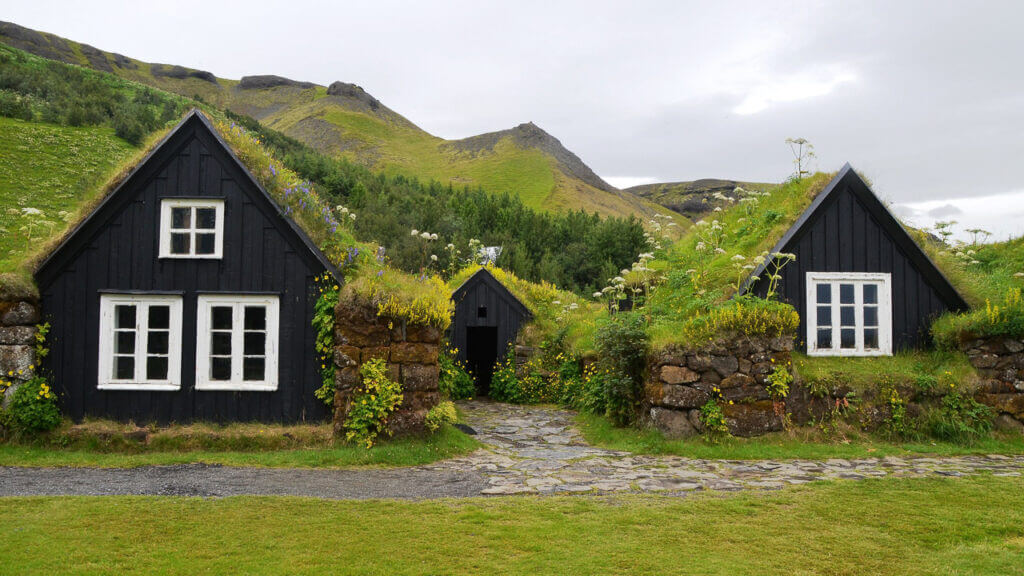 Turf houses around Reykjavik
One of Iceland's favourite turf roofed houses and very well maintained, Arbaer is now an open-air museum. A collection of 20 buildings forming a town square, village and farm; this place will definitely take you back in time.

The Settlement Exhibition in Reykjavik is built around the ruins of a settlement age hall, which is believed to be one of the oldest remains of turf dwellings in Iceland.

It is possible to visit these as part of our Reykjavik city tour.