Over ten percent of Iceland is covered in ice in the form of glaciers. While numerous, the country's glaciers can be mysterious and moody. Never venture onto one without an experienced guide!
From the seemingly endless expanse of Vatnajokull—Europe's largest ice cap—to the tiny-but-perfectly-formed Snaefellsjokull, Iceland boasts glaciers of all shapes and sizes.
About glaciers
The definition of a glacier is a place where the summer melt does not exceed the winter snowfall. In other words, a place where there is always snow and ice.
Over years, layer upon layer of snow compacts into ice, and some of it is tens of thousands of years old.
As all over the world, nearly all of Iceland's glaciers are getting smaller—losing a staggering two billion tonnes of ice since 2000—and scientists predict they could completely disappear by 2300.
Iceland is a land forged by the powers of fire (volcanoes) and ice. Its glaciers remain formidable and each unique.
Here are a few of our favourites.
Langjokull
Translated as 'long glacier', Langjokull is the second-biggest glacier in the country and is visible from a large swathe of West Iceland. Langjokull is home to the world's longest human-made ice tunnel—a truly fascinating adventure inside the glacier. On top, Langjokull is one of the best glaciers in Iceland for snowmobiling tours and ice hiking. Langjokull can be included in private tours from the cruise ports of Akranes, Grundarfjordur, Reykjavik, Hafnarfjordur, and Stykkisholmur.
Snaefellsjokull
Literally translated as 'snow mountain's glacier', Snaefellsjokull really lives up to its name. A technically-still-active volcano, it is arguably the prettiest (and also smallest) glacier in Iceland. It is a 1,446-metre-tall cone with a glistening white cap, perched conspicuously on the end of a long peninsula in the west of the country.
On a clear day, you can see Snaefellsjokull from Reykjavik and it absolutely dominates the Snaefellsnes peninsula, which is home to towns including the cruse ports of Grundarfjordur and Stykkisholmur.
The glacier and surrounding areas form one of Iceland's three national parks and a tour around the area will clearly show you why. Trips up onto the glacier are also available for the adventurous (and fit).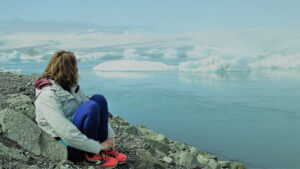 Myrdals- and Solheimajokull
Another one of Iceland's big four glaciers, Myrdalsjokull is famous for several reasons. A major one is that deep under its ice lies Katla; one of Iceland's most active volcanoes. Over 20 eruptions have been recorded since humans started calling Iceland home. While the last major one was over a century ago, it is thought Katla has erupted quietly under the ice as recently as 2011.
Myrdalsjokull beautifully frames an area of South Iceland that includes the town of Vik, and the famous black sand beaches. This is one of the most picturesque areas in the south—not least thanks to the brooding presence of the glacier.
On the western edge of Myrdalsjokull lies the Solheimajokull outlet glacier, which has become a de-facto laboratory in recent years, attracting scientists, activists, politicians, and artists from around the world to witness glacial retreat with their own eyes. Simultaneously, Solheimajokull has also become the premier spot in Iceland (and possibly all of Europe) for glacier hiking tours.  
Vatnajokull
The biggest ice cap in Europe by volume, Vatnajokull is larger than all the other glaciers in Iceland combined. It is impossible to think of Southeast Iceland without picturing its vast wall of ice in the background.
The entire glacier, with surrounding areas, is inside the truly-vast Vatnajokull National Park—itself also the biggest in Europe (outside Russia). In fact, it is not uncommon for visitors to spend their entire stay in Iceland within the national park.
From trips up onto the ice, to hikes in beautiful Skaftafell, the informative visitor centres, and the world-famous Jokulsarlon glacial lagoon and "Diamond Beach", Vatnajokull leaves a big impression.
It can be reached easily on cruise day tours from Djupivogur, but the national park, and the glacier's 'sphere of influence' are so big that Vatnajokull can also inspire trips from Seydisfjordur, Husavik, and even as far afield as Reykjavik!
Drangajokull
Finally on our non-scientific list of favourite glaciers is Drangajokull—the only glacier in the remote and rugged Westfjords region. It is Iceland's northernmost glacier, and the only glacier that lies entirely beneath 1000 metres above sea level. It also has a reputation for being the only glacier to not be shrinking, though this might not be the case anymore.
Drangajokull is largely left untouched, with human traffic peaking back in the days when people still lived on the Hornstrandir peninsula, which today is an uninhabited nature reserve.
Well-prepared visitors with plenty of time are able to trek on the glacier, but its appeal for day tours is mostly scenic. A visit to the foot of the glacier is a humbling experience, about as remote as it is possible to feel—as well as small, in comparison to the landscape around.
Boat trips from Isafjordur may catch impressive glimpses of Drangajokull, and cruise passengers in Holmavik can approach the glacier via a long, winding, unpaved road into the wilderness.